Create your free account
Name*
Company
Phone*
E-mail*
Password*
Confirm Password*
Sign in
Email
Password
Wholesale cutting boards
Manufactured in the USA
Are you looking for maple or walnut hardwood cutting board manufacturers in the USA? With a minimum quantity ordered, we can supply you with the custom wood cutting boards that will suit your customers' wishes. All our hardwood is FSC certified.

Our wood cutting boards come in a variety of shapes and sizes, from traditional to novelty shapes.

Have an original idea for a unique cutting board design? With a minimum quantity purchased our boards can be custom cut in the shape of your choice in either maple or walnut.

Want to engrave a logo or get a monogrammed cutting board? With a minimum quantity ordered we will engrave on any one of the cutting boards available on our site or on your custom cut board.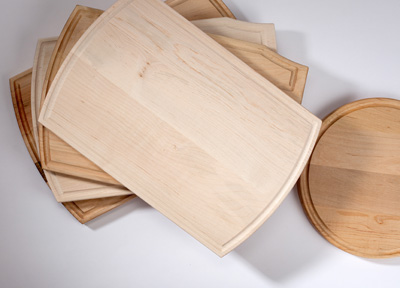 In stock cutting boards
We have many styles of boards to choose from: rectangular, round or oblong cutting boards; boards with, or without handles. Many styles are available in either maple or walnut.

Decorative novelty cutting boards
If you are looking for decorative novelty cutting boards, you can choose from a cow, a pig, a moose or an apple! Maybe you can want to offer something a little different, such as puzzle piece cutting boards, available in two or four pieces which actually interlock together. These can be used alone or as a complete puzzle! Our novelty boards are available in maple or walnut.

Custom cutting boards
Maybe you have an idea for a custom wood cutting board that would sell well in your area. Whether it is a board cut in the shape of the State of Florida or a strawberry, with a minimum order we will custom cut you unique design. In either maple or walnut, we can custom cut your cutting boards, whatever your idea, give us a call and we can help you. Minimum quantity required for custom cutting boards is 50. Custom wood cutting boards

Engraving
Looking to personalize your cutting boards with a company logo, name or brand? We have personalized cutting boards for many companies. We will laser engrave the boards you order from us, whether they are available on our website or your own custom design. Offer something unique to your customers!

Engraved cutting boards with laser
Using the latest in cutting-edge technology, we can engrave cutting boards. Laser engraving is a permanent and clear-cut way of personalizing your wood cutting board; we will engrave the image or the text of your choice on one side of the wood cutting board.
Rules of engagement
The following lists the minimum quantities that must be ordered to get wholesale prices:
Minimum quantity required for wholesale price - 24 boards purchased (a minimum of 6 boards per model must be ordered)
The minimum quantities required for custom cut boards or for engraving boards are as follows:
Minimum quantity required for custom cutting board designs - 50 boards
Minimum quantity required for engraving - 24 boards

Guarantee
All our cutting boards come with a 90 day return policy. If you are not entirely satisfied, return the boards to us and we will give you a full refund and even pay the shipping. The boards must be returned in their original condition.
Your satisfaction is important to us. We know that purchasing cutting boards online does not allow you witness for yourself the high quality of all our wood cutting board products. Therefore, upon receiving you order, if you are not 100% satisfied; you have 90 days to return the cutting board for a full refund. In addition, we will even pay for the shipping by providing you with a pre-paid UPS domestic return label. The cutting boards must be returned to us in proper packaging and in their original condition.

Contact us for more details